Essential training on core TV presenting skills that will boost your confidence and professionalism to a whole new level. You'll gain valuable insight into how you can become an expert on-screen communicator and use the tools of the trade, including Autocue, Talkback, Interviewing and Ad libbing effortlessly. 
You'll cover every element of audio and camera communication as well as how to self shoot effectively, scriptwriting, podcasting, YouTube and radio presenting in this ground-breaking training programme which is suitable for all genres of presenting. You also gain a clear understanding of how to brand yourself along with what step and actions are needed to obtain presenting work and go forward with your TV Presenting career with examples of CV's, how to write letters and finding industry contacts.
Each module includes video lessons, audio description, and written theory that you can study and master at your own pace and convenience. At the end of each module there is an automated quiz to make sure you have fully understood everything along with practical exercises.
You can work through this fully automated online presenters course in your own time with the flexibility to fit around your other commitments. There is no time limit to complete. Our online presenter course covers everything you need in order to succeed as a presenter at your fingertips.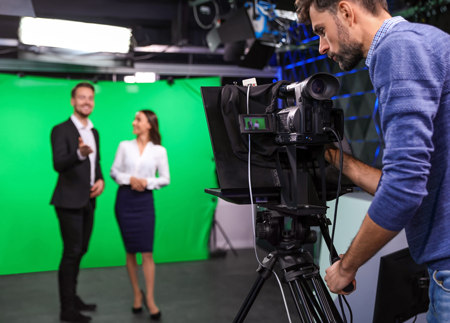 Is it for you?
Starting out as a new presenter or looking to take your TV Presenting skills to the next level, maybe you're feeling that your performance is a bit:
Awkward or unnatural
Lacking energy and enthusiasm
Not a true representation of your personality or expertise
Insincere and unfriendly
Overwhelmed and don't know where to start
This course is for anyone who wants to gain a new level of confidence and professionalism in their presenting.
What will you gain?
After completing this training programme you'll have a thorough knowledge and understanding, as well as practical skills, to:​
Talk to the camera in a natural and engaging way
Overcome performance anxiety and nerves
Significantly increase your confidence and credibility
Use all the 'tools of the trade'
Understand how to brand yourself and stand out from the crowd to get work as a presenter